Equipment for the Microbiology Laboratory
Seeding Labs, a US-based NGO supported by USAID's Global Development Lab, chose 16 outstanding University departments in 11 countries for the 2016 Instrumental Access program after a rigorous application process. Instrumental Access makes high-quality laboratory equipment and supplies available to university departments in developing countries to advance cutting-edge research, expands training opportunities for students, and enhances the infrastructure that's critical to a thriving scientific community.
We are happy to report that University of Embu is one of the 16 universities that were selected to receive research and teaching equipment. The university will soon receive a container with nearly 6 tons of lab equipment and supplies that will support teaching and research in the Department of Biological Sciences. The shipment contains equipment donated to Seeding Labs from US-based research institutes and corporations in the life sciences, biotechnology, higher education,  and manufacturing sectors; 24 donors contributed equipment to Embu's shipment.
The Department of Biological Sciences and other departments within the University will use equipment to establish on-site teaching labs for undergraduate and graduate students. "Being a young institution, we have a golden chance to break new ground and introduce modernized courses that are responsive to the market needs," says Dr. Romano Mwirichia, senior lecturer of microbiology at Embu. "Access to adequate equipment will greatly help us in delivering quality to our students as we prepare them for the job market or careers in academia."
ABOUT SEEDING LABS
Seeding Labs is a Boston-based nonprofit organization that catalyzes scientific progress in the developing world by equipping scientists with the tools, training, and connections they need to be at the cutting edge of global discovery. Working with corporate and academic partners,
Seeding Labs has provided more than $3.8million in surplus lab equipment and training programs to scientists at 43 universities and research institutions in 26 countries since 2003. Seeding Labs is supported by USAID's Global Development Lab and was named one of Fast Company magazine's top 10 most innovative not-for-profit companies in 2015.

EQUIPMENT DONATION FROM THE ALEXANDER VON HUMBOLDT FOUNDATION
In March this year, we received a donation of molecular biology laboratory equipment worth 20,000 Euros from the Alexander von Humboldt Foundation in Germany. The equipment grant was awarded  to Dr. Romano Mwirichia from the Department of Biological Sciences to enable him continue the research he had started in Germany under the Georg Forster Research Fellowships for postdoctoral researchers.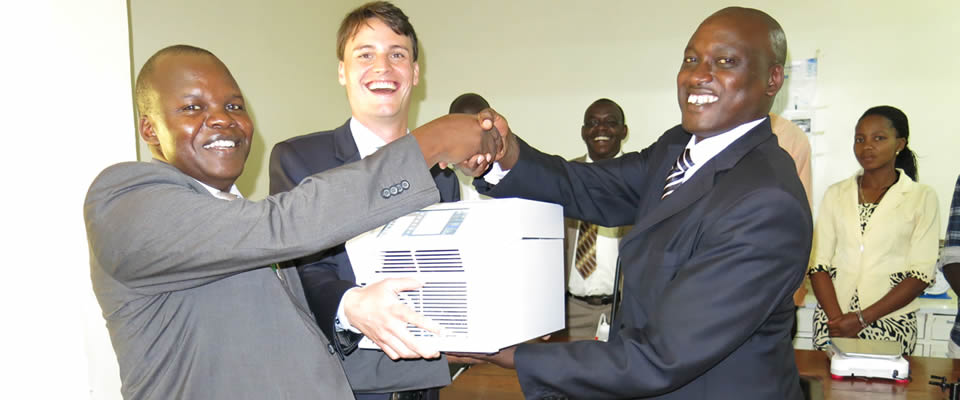 This fellowship is offered by the  Alexander von Humboldt Foundation to enable highly qualified scientists and scholars from abroad who are just embarking on their academic careers and who completed their doctorates less than 4 years ago to spend extended periods of research (6-24 months) in Germany.
The research fellowship programme is financed by the Federal Ministry for Economic Cooperation and Development (Bundesministerium fur wirtschafliche Zusammenarbeit and Entwwicklung - BMZ),  Germany. The motto of the Alexander von Humboldt Foundation is "Once a Humboldtian, always a Humboldtian" and, therefore, more funding and collaborations are in the offing.