Spearheading Innovation and Knowledge Incubation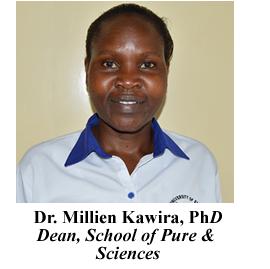 I am proud to release skilled graduates of high integrity who will serve the Nation of Kenya with a zeal of patriotism. There is no doubt that by use of the training and experience gained, you shall be able to make your special contribution to the Vision 2030, Science and Technology goals and the Sustainable Development goals among other pillars of our economy.  This indeed is a remarkable achievement since these are the cardinal drivers of our Schools' vision.  Today, you are crowned to enhance the mandate of our beloved University with respect to academic, research and extension to improve the lives of humanity. I  advise you to spend more of your time in innovation and knowledge incubation centres that are critical links to the discovery of new technology and ideas. Consequently, this shall provide opportunities for research application that comes in handy to solve societal problems through extension work and outreach activities. To this effect, the role of research cannot be overemphasized.  The School of Pure and Applied Sciences is at the forefront to contribute to the pool of highly qualified personnel who shall create jobs in the twenty-first century. As you take your place in the diverse and expansive world of work, seize the opportunities created countrywide for internship as entrenched in the Government policies to enhance your experience for advancing your marketability. The School of Pure and Applied Sciences shall continuously try to bench-mark with other universities not only within the region but also globally. This will definitely ensure the global competitiveness of our graduates. I wish to encourage you to continue in this path and increase your efforts in mainstreaming the education and skills development of young people in our Country.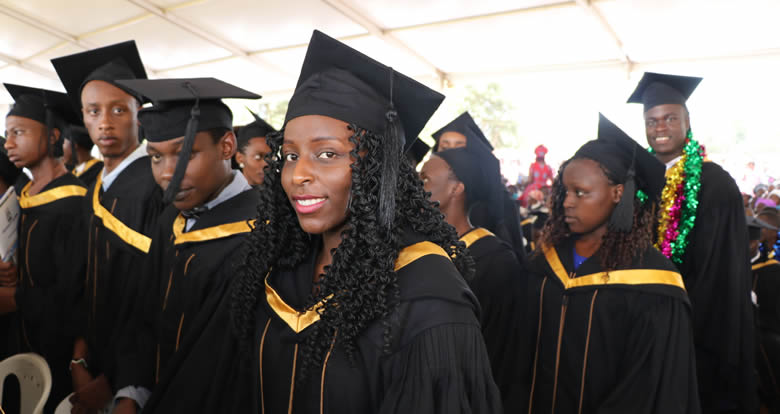 I am glad to be the one to remind you that you stand here today because you took the opportunity to walk through life confidently and you were open to self-improvement and that which is going to best help you evolve because that is really why you chose to study. You have the opportunity to use your education to do good. I hope you strive for more than just the good feeling that service provides, that doing good actually makes you better. Therefore, whatever field you choose, if you operate from the paradigm of service, I know your life will have more value and you will be happy. Use your job as a platform to serve others. Always remember that whether you're an actor, you offer your talent in the way that most inspires art. If you're an anatomist, you look at your gift as knowledge and service to healing. Whether you are a cleaner, you embrace your job as you would your home. Whether you've been called, like many of you here today getting degree certificates and other accolades, when you choose to offer your skills through the paradigm of talent in service, everything you do turns from a job into a gift.  To move forward you have to give back. Especially to our community which has contributed to your development. To me, that is the greatest lesson of my life. To be happy, you have to give something back, you know that because that's a lesson that is woven into the very fabric of humanity. It's a lesson that your education has enhanced in you. I wish to end with a quote from Dr. Martin Luther King Junior which said, "Not everybody can be famous. But everybody can be great because greatness is determined by service."
You don't have to know Einstein's theory of relativity to serve and you don't have to know the second theory of thermodynamics in physics to serve. You only need a heart full of grace and a soul generated by love. May your service be the highlight of this day – your graduation day.
Congratulations.